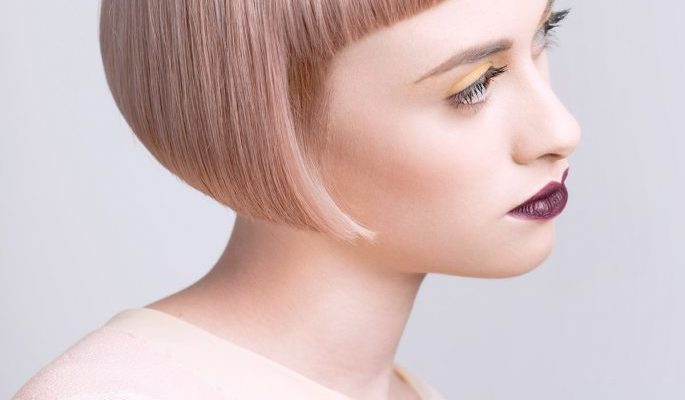 Models are the vehicles for our expression, our canvases, our muses, and often our friends. A good model is worth her weight in gold. Open to change and constantly evolving, these are the women we invite back into the studio again and again. They can carry any look, are far from precious with their hair, and embrace the idea of change with open arms.
Muses have played a role for artists throughout history, and hairdressing is no exception. In the early days of Vidal Sassoon's career he incorporated concepts from architecture into his work and sparked a revolution. Interestingly, the model first photographed in his 5-Point Bob was the renowned fashion editor, Grace Coddington. As our founder, Michael Gordon explains, "She and Vidal had an artist-muse relationship for years during her career as a model. When we interviewed her for the documentary we made on Vidal, she talked about feelings of letting him down after she was in a car accident because she wasn't able to go to NYC with him as his model, which wasn't even a paid job. This is a typical muse relationship; you just have this deep connection with a person, their face, their attitude. They are your canvas. For Vidal it was Grace Coddington and Mary Quant."
In the early days of building his first business, Bumble and bumble, Michael was constantly looking for ways to promote a small and growing salon. One of many creative approaches was to scout exceptional people and offer them haircuts in exchange for photographing them, a practice that we continue here at Hairstory – scouting muses that are not only attractive, but also interesting and unique.
"When I first moved to New York, I managed to get myself booked frequently with Seventeen magazine as a hairdresser," he elaborates, "and during one of the shoots I took a liking to Marilyn Clark. She was rather young, maybe 17 or 18, still in high school, and quite shy. I asked her, 'Who cuts your hair?' She gave me the name of a stylist who was good, the cool guy in town, and I rather brashly said, 'Oh, I could do it much better,' and lo and behold, a week or two later, she came to the salon." Marilyn quickly became a favorite of Michael's, and a dear friend, and to this day she is a loyal client and returning visitor to his chair. In fact, he often credits her with much of Bumble's success because she worked so frequently as a model, from shooting with British Vogue to posing for the catalogues of major companies, that she influenced a wide variety of women who came into the salon asking for her haircuts.
This practice of attracting and cultivating house models is something that Michael encourages for many reasons. Not only is it useful to have someone who inspires a stylist to think differently, but it also cultivates a different kind of relationship, one of creative collaboration. This is entirely different to the traditional stylist-client relationship in that it allows more creative freedom when working with a volunteer as opposed to a paying client. It allows the opportunity for a conversation about change that can be stimulating and gratifying, and lead to unique results. Over time, a good stylist-muse relationship evolves into one of trust and experimentation, and truly improves with age.
When Michael conceived of Hairstory, he explains that while it's not a salon and the idea wasn't to get busy with clients, the principle he applied to Bumble also applies here. "We needed models and we wanted them to reflect a diverse range of ages, ethnicity and hair, but we still wanted the exciting ones, the ones that could become muses." He noticed that the world of modeling had changed dramatically and there were fewer agencies shaping models' looks. Because of this, he explains, "We used the modern version which was street casting; a bunch of us went out and approached people and it worked. We found amazing people, and a lot of them keep coming back so we now have an archive of these girls." It's these muses who influence how people are seeing hair. "I tell hairdressers to find people who they think are great, just do their hair, and their business will grow. Not only do they get busy, but they're choosing the type of people they want to work with."
House models are valuable to us because they are charming and photogenic, but also because they offer a sense of stability, a way of creating content that is consistently strong and dynamic. These inspiring women challenge us to avoid repetition and reach higher. They are a necessary part of the business of transforming hair regardless of whether they are professional models or not; each has a certain je ne sais quoi that motivates us to think differently about how we wear and think about hair. When we find a perfect Hairstory model, we just know: There's just something about her that inspires change.
[From hairstory.com]